A Twisted Perspective
I'm once again participating in Microblogging Monday.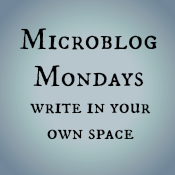 Jeremy and I went to see the movie
Gone Girl
this past Saturday. While I enjoyed the movie, and highly recommend it to anyone who wants to spend an excellent couple of hours. However, my infertility was the third wheel on my date night.
I won't give away the plot, but there is mention of a fertility clinic and the notion that one go at the clinic is all it took for someone to get pregnant.
All that went through my mind was "Seriously? Her?"
I know it's fiction, and I know I should have checked my emotional baggage at the door. But, I didn't and it was at the front of my mind.
Is that what a girl has to do to get a pregnancy around here?