Just Wait
Today is another Microblog Monday. Check it out over here at the Stirrup Queens. I was looking for inspiration for this blog today, just to keep up my 31 days of blogging mojo. Some days, the words flow effortlessly... on days like today, it is more like... well... those days in the stirrups. Anyway, I found inspiration when I hit play on my playlist this afternoon. :)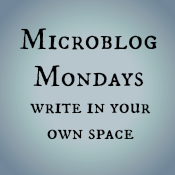 Jeremy and I have very different musical tastes-- he likes EVERYTHING (from twangy country, to death metal to classical) and I have very narrow tastes that begin and end in the rock realm. We overlap in a few places, one of them being our mutual love for Blues Traveler. We've seen them in concert more times than I can remember, and they absolutely never disappoint.
Today, one of my favorites was cued up first on the random part of my playlist-- a song I haven't heard in a very long time. Staring down my 34th birthday tomorrow, it was just what I needed to get my perspective back to where it should be.
I've been focusing on the fact that my eggs are as young as they will ever be and it looks like it will be 3 or 4 more months until we can try any fertility treatments, for one reason or another. I'm tired of the holding pattern and I just want to DO SOMETHING.
But, as the lyrics reminded me, this is not a path I walk alone, my "suffering" is not "a privilege you share only" as there are others who have forged ahead of me and still others who will walk in my footsteps.
So, while I may "feel tired and no consolation" "and my "wildest dreams" have hurt me more than I cold ever imagine, I must remember that "time is the beauty of the road being long" and that "coasting to the bottom is the only disgrace."
Thanks, Blues Traveler for the much needed perspective. Onward to year 34.
Interested in the song?
Give it a listen here!